Commerce
Our Commerce system offers two different options:
Enquiry Only
It may be the case that one-on-one communication is a critical component of your business. We want to facilitate that for your business, while providing a robust online search solution at the same time. It's not uncommon, especially in industries that deal in large/custom/specialty/secondhand items, to have customers want more information about an item's cost and condition before making a purchase. They may want more detail from your business than an item description could provide.
Enquiries allow your customers to ask specific questions about the pricing and qualities of any item in your search database, or multiple products at once, starting a conversation with your business with the goal of leading your customers to a sale
Enquiries
Enquiries are the way your customers receive a quote for selected items; they're a vital component of a business structure, and a way to meld a business that has very real in-person needs with the digital world. Here, you can review enquiries submitted to your site; this can be handy to remove spam/problematic enquiries, or to double check that an enquiry was indeed received. It's a troubleshooting interface, for the most part. For more in-depth enquiry monitoring, check out the Analytics portion of the Administration.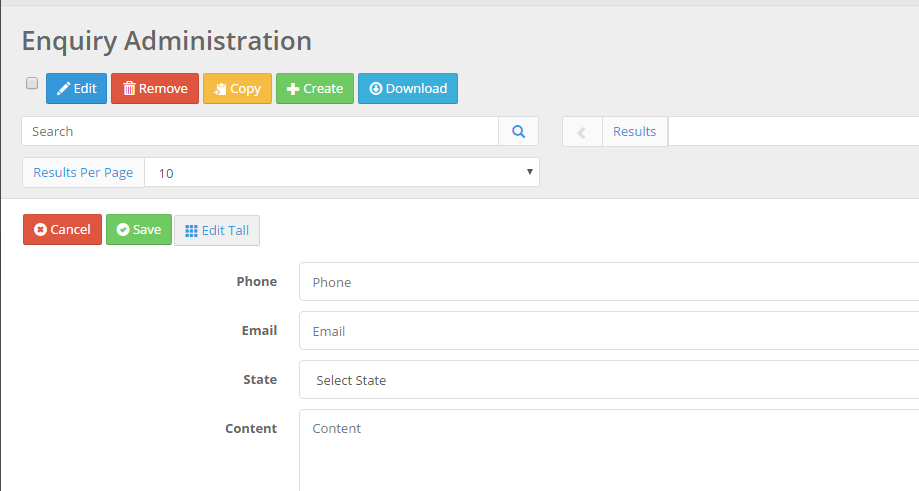 Orders/Carts/Enquiries
A more robust online commerce option is available, that includes the above Enquiry option, as well as online order handling and a built-in shopping cart.
Orders
Much like the enquiries interface, the orders interface lets you review orders that have been placed on your site; you can review dates, times, cart totals, and transaction information. This can be a handy way to find records in the case of an issue.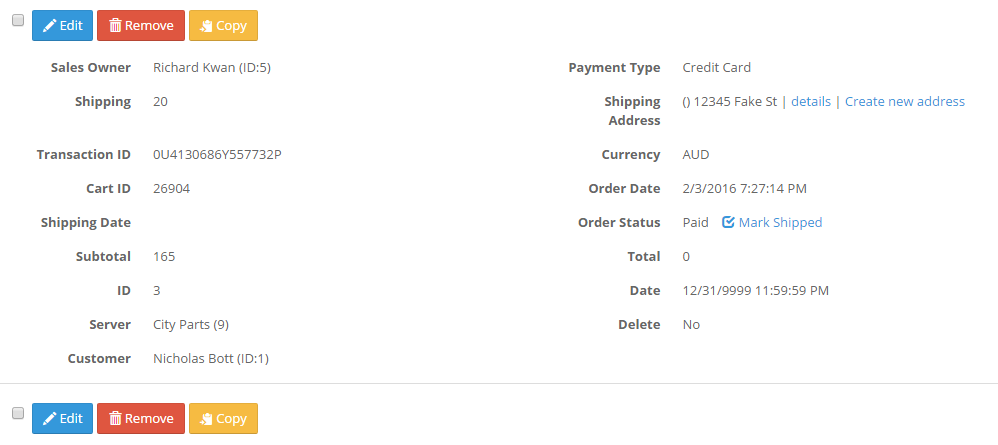 Shopping Carts
This interface shows you the shopping carts that have been started on your site; it can give you some very basic information about a customer's use of the site and when they added items to their cart, letting you track down carts if there are ever issues that need to be addressed using shopping cart information.

Fee Data
The Fee Data section of the Administration gives you an advanced degree of control over how shipping and warranty fees are assessed; the initial set up in this section can save hours of time with future transactions.
Shipping regions
Shipping regions allows you to dissect your shipping area into specific geographic locations; from there, you have the option to pro-rate your maximum shipping fee based on areas closer to your base of operations. Postal codes are used to delineate shipping regions.

Shipping rates
For the merchandise categories you establish, you can set maximum shipping rates; this rate is then used with a shipping region to determine your site users' final costs for shipping. Each shipping region charges a percentage of the maximum shipping rate, depending on your business logic with regards to shipping costs. Flat rate shipping can also be established for particular items; these flat fees are not altered by shipping regions. This formula simplifies shipping logic to a two-part system that ensures your business doesn't lose out on shipping costs, and neither do your customers.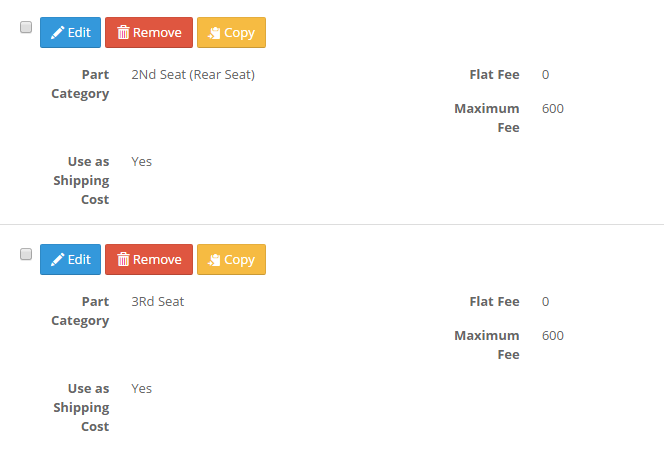 Import Shipping Data
Instead of manually entering shipping region and rate data, you can upload a spreadsheet here. This gives you a quick way to enter all your data into the system, all while using familiar software.

Warranty Types
This section allows you to establish Groups for warranties; these Groups can then be set to different warranty standards using the "Warranty Rates" section.
Groups.PNG" />
Warranty Rates
This section allows you to determine what your warranty types will cover in terms of percentage of value, as well as what specific items the warranties cover. The price of the warranty and whether or not it is required to warranty the specific products the warranty types apply to can also be set up through this interface.
Customer data
includes all information your customers have entered into your site:
Accounts
This includes the basic account information for all customers. You have the ability to edit, duplicate or remove Customer Accounts, based on your business needs. There is also the ability to set the Account Type; SuperAdmin, Admin, Staff, Member and NonMember.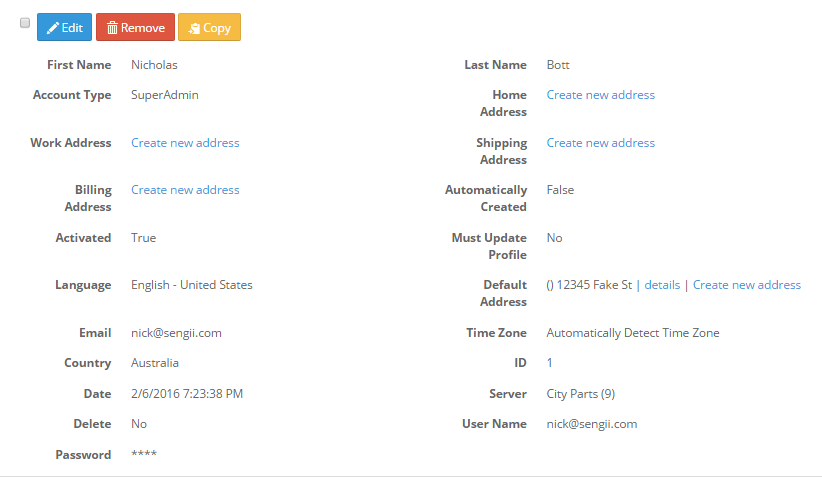 Addresses
This is a listing of all entered user addresses. Again, you have the ability to edit, duplicate or remove as needed.