Search Drill-Down
The Search starts with keywords; through the Administration you can even anticipate common industry keyword misspellings, so your customers get search results even with less-than-accurate typing. Basic search sorting, including sorting by recommendations/ relevance, increasing/decreasing the results per page, and viewing lists vs. grids. More advanced sorting includes using category types, categories and category Groups to drill down through search results.
These controls are established in the Administration, allowing you to set up how your site users navigate their search results. Grouping products in Category Groups can help connect site users to what they're looking for, boosting sales.
When a customer scrolls through their search results and adds an item to the cart, the page scrolls up to the cart toolbar above the search. This toolbar shows the cart subtotal, and prompts the user to view their cart, checkout, or view their account. Instead of obnoxious popups or forcing the user to browse back to search results from the cart itself, the toolbar gives a quick view of cart options.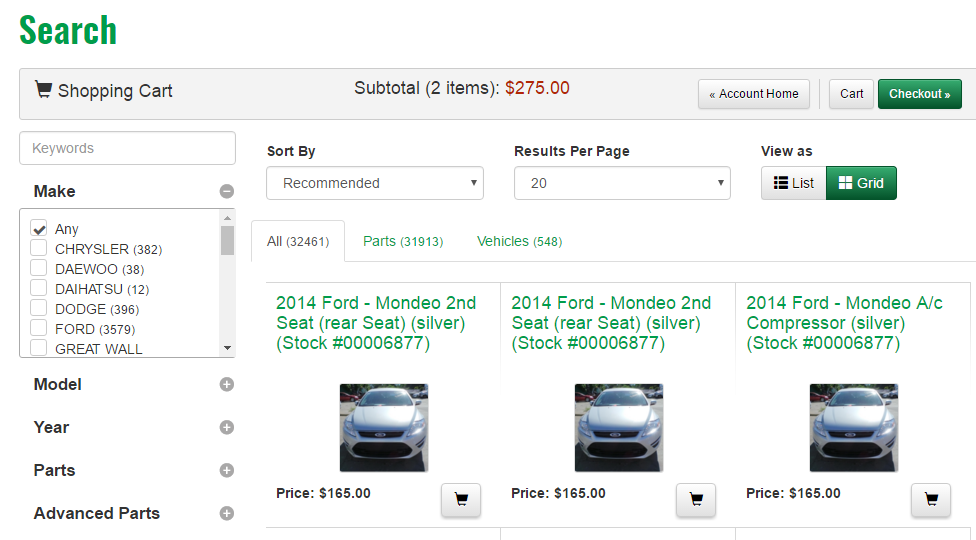 Individual Product View
One of our major goals is to lead your site users from searching to buying. Each search result has the option of a picture, title, text blurb with information, and price. Sometimes, this is enough to have a customer add the item to the cart, but sometimes a customer needs to know more. An individual product view gives the customer what they need in terms of product information, as well as allowing them to add the item to their cart, or to continue searching.