Connect Administration
Your staff can be set up with Administrative accounts for Connect. These accounts will give your staff increased access to management tools in Connect, allowing them to diagnose email issues, view Analytics reports, and approve Discussions.
Managing the live site
Administrators are able to edit content on the live site for any Connect installation. This includes Discussions, member profiles, group information, etc. Administrator permissions are discussed in a few different areas in this documentation, but it could easily be the case that only one discussion post, or only one blog entry on your Connect installation needs editing.
Examples
These examples show how Administrators can click "edit" links to alter site content. These edit links ONLY appear to Administrators unless a member originated the content (including creating a Group or a discussion post).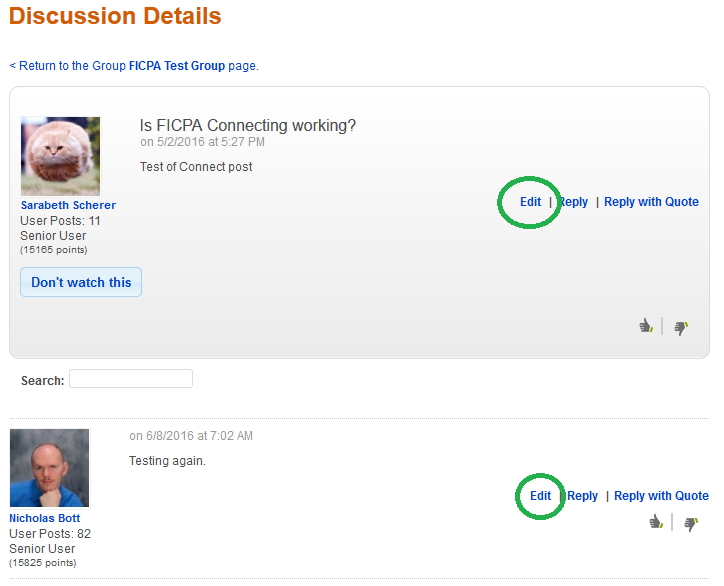 Technical Support
You can access the Technical Support portion of the Management menu just below the dashboard of any Administrative member of your Connect platform.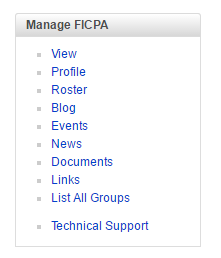 The Technical Support panel controls a host of Administrative features, including reporting on Analytics metrics, and management of email settings for your users. The email management portions can troubleshoot email issues for a specific user, or help improve security measures through the exclusion of particular emails. An approval process for group Discussions can also be enacted here, giving you more control over the content of your social networking platform.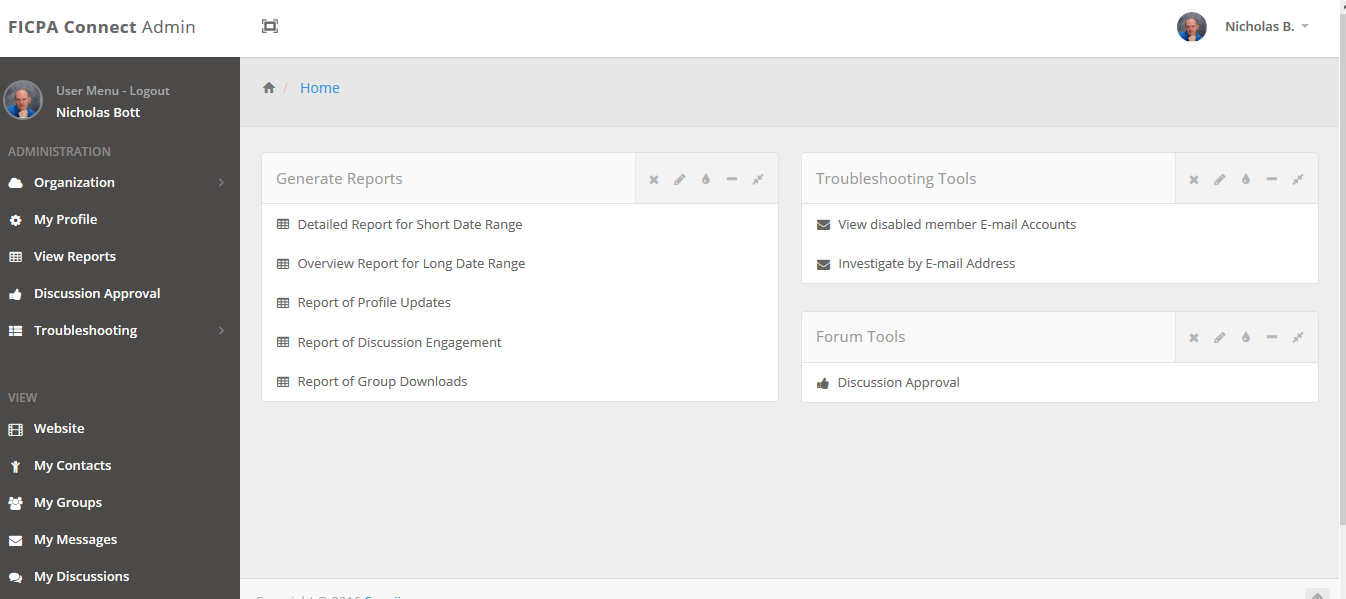 Association and Member Profile Management
Your Association Profile can be managed through the Technical Support portal. More information on this can be found at the Association Profile documentation page.
Your member profile can be managed through the Technical Support portal as well. Click on any image in the gallery below to see the features in the Member Profile management section.
Analytics and Reporting
You can generate a detailed report with a large number of Analytics metrics, or an overview report for a longer date range. Reports of items such as Profile Updates, Discussion Engagement and Group Downloads are also available.
Analytics.aspx">Analytics documentation can be found here.
Discussion Approval
If you want an approval process established for Discussions in your Connect installation, Discussions that are created or edited can be routed to the Pending Approval section of the Technical Support portal for your staff to approve or remove, as you see fit. You can see who posted the discussion, in what group, and when. This gives you the option of editing the post, as well as approving, rejecting or deleting it.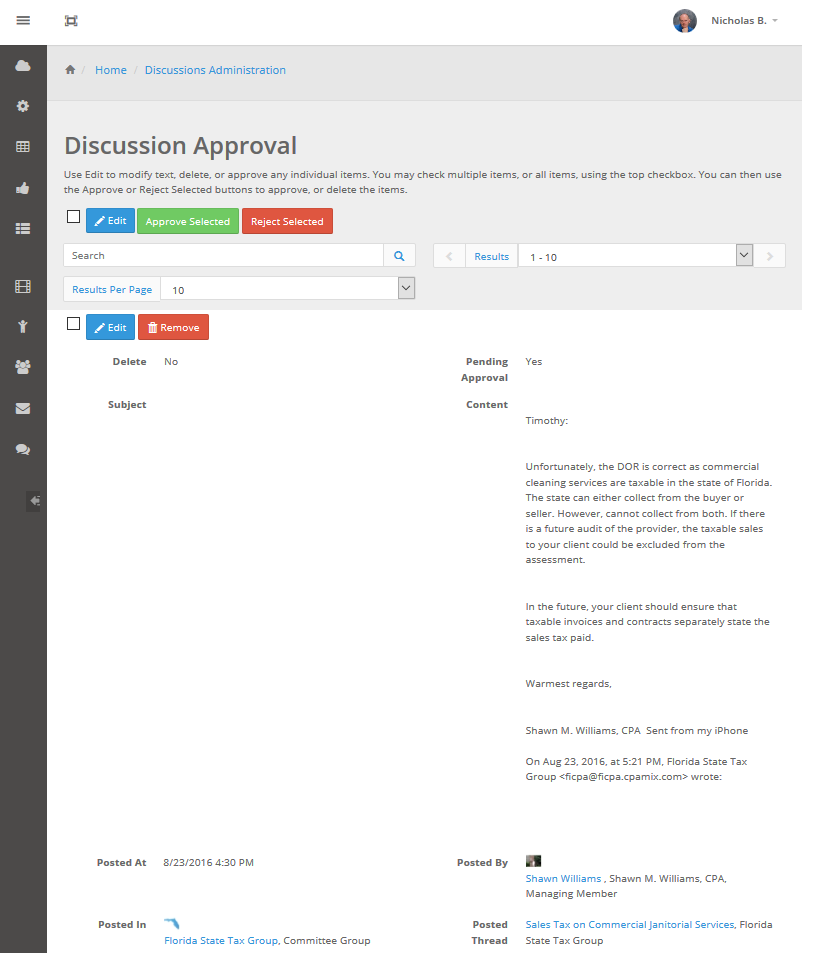 It is also possible to edit discussions live, when logged in as a Connect Administrator, so it may be the case that you prefer to edit discussions on the web interface instead of, or as well as, a discussion approval process.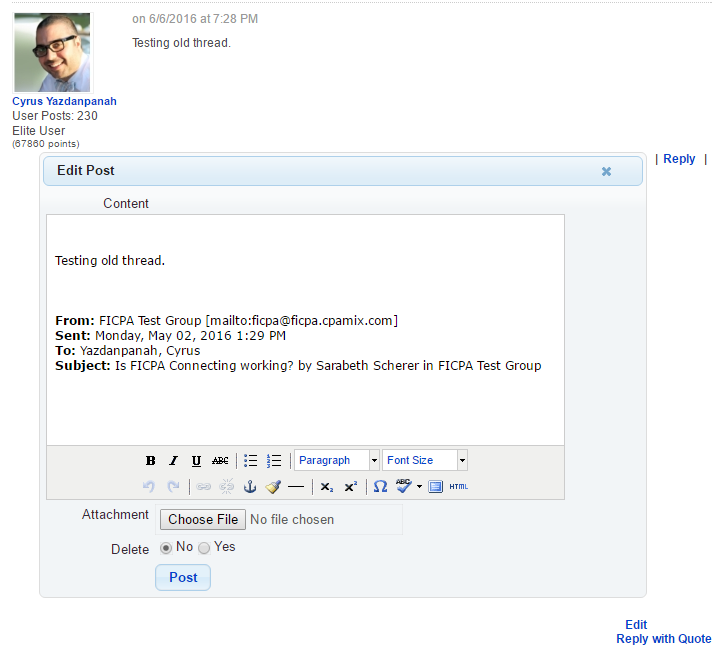 Email Tools
Send Email Test
It may be the case that testing email settings and ability to receive emails from your Connect installation becomes necessary. This template lets you send a test email to diagnose any issues the address may be having.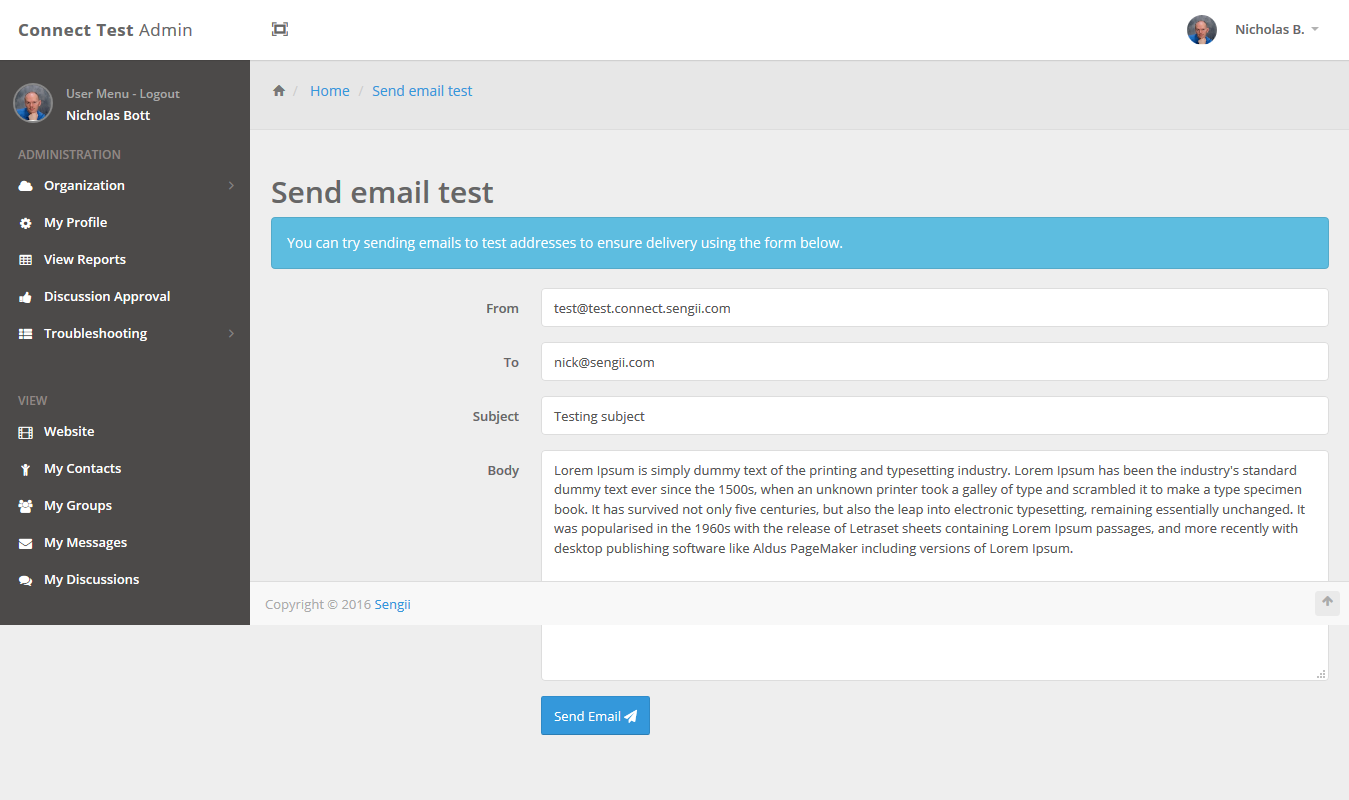 Disabled member emails
The Technical Support portal allows you to review all disabled member emails for your Connect membership. Emails may bounce, resulting in the email address becoming disabled by the system in terms of receiving/sending emails. This is to prevent spamming issues. This list provides enough information to work with the user and diagnose problems, and can be used in conjunction with the email diagnostic tool to assist the member in solving their email issues.
Clicking on the email address in a disabled email record brings you to the "Diagnose Email Issues" page to determine what issues the user is having.
Clicking on the Record ID brings you to the profile of the user, so you can review their profile and make further administration decisions.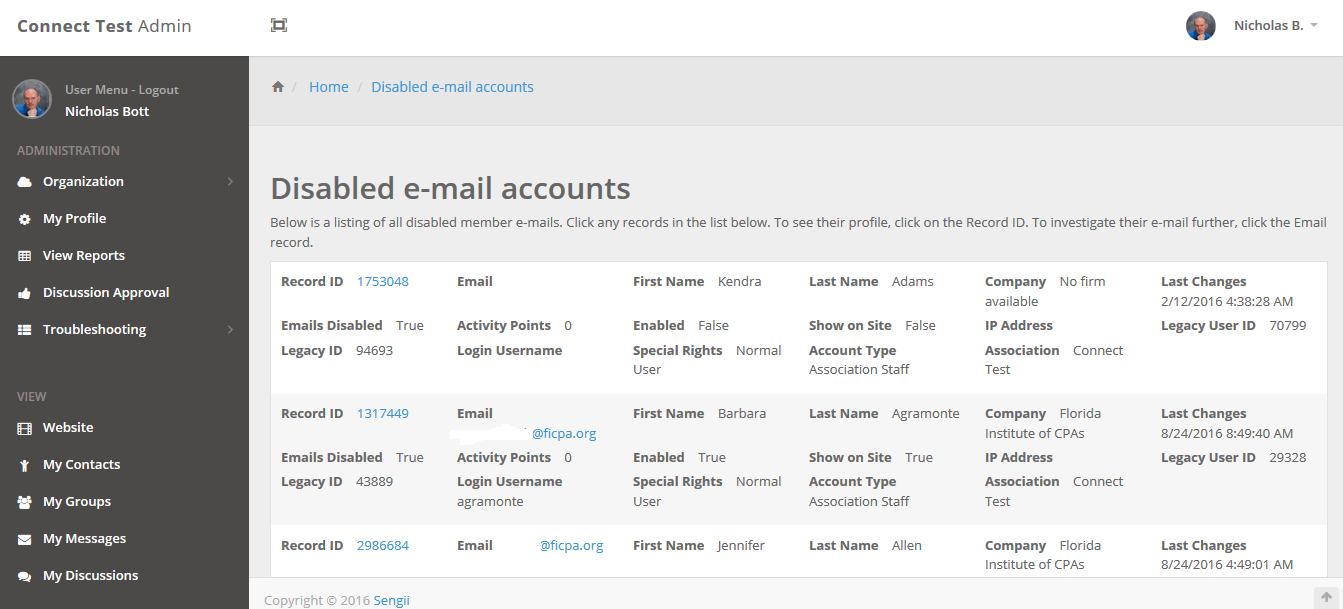 Diagnose Email Issues
When an email address has issues with receiving or sending messages, or participating in email group Discussions, the email test tool gives you information about how many accounts are linked to the email address, what site interactions they've recently had, and allows you to send a test email.
Email addresses can be blocked through this portal as well, to prevent problematic users from contacting other members.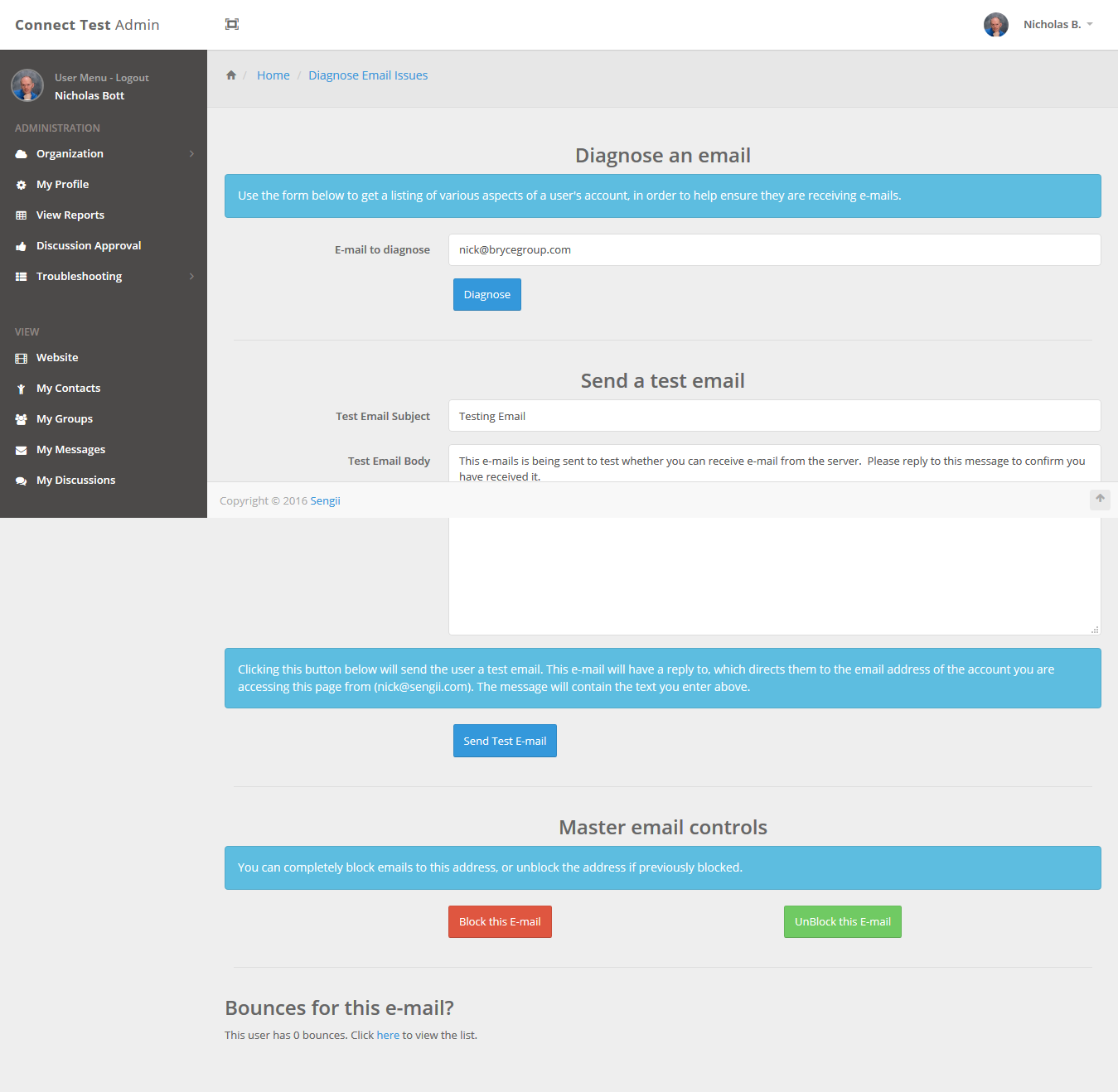 Manage a member account
Administrators have the option of managing a member account for a member, as well as impersonating that member to troubleshoot issues they may be having. When managing a member profile, the Administrator is brought to their Edit Profile page, and allowed to make any and all needed edits.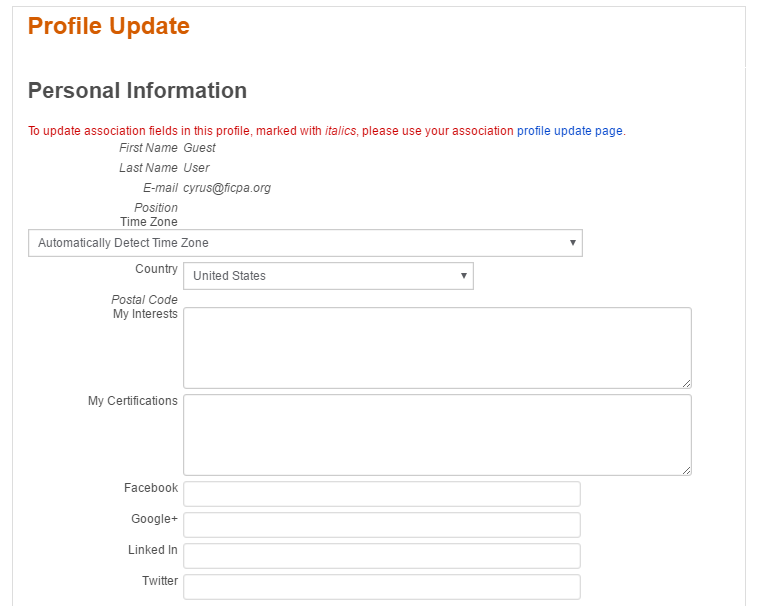 Impersonating a Member
When impersonating a member, an Administrator is brought to their profile and logged in as that user. An Administrator can then work within the site as that member to troubleshoot any ongoing issues the member may have. To stop impersonating the member, the Administrator can navigate to their own account, then impersonate themselves. This resets their use of the site to their actual profile and permissions.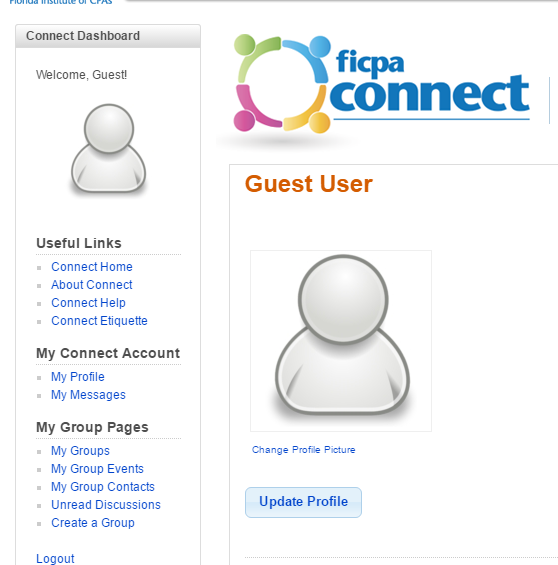 Managing your Association Profile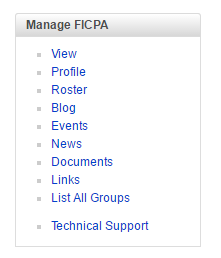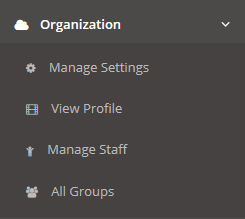 Connect installations have the option of serving Groups of Associations, while giving Administrators from each Association the ability to control the information displayed for their individual association. This is very similar to managing a Group, just on a level that supersedes individual Groups and members.