Connect Groups
Replace your Listserve and provide your members with an attractive, interactive user interface at the same time! Connect uses Groups and Discussions to give your members a voice and community within their profession, all with easy-to-use interfaces.
Groups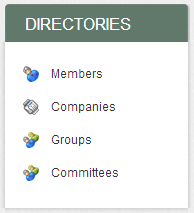 Groups are a common feature of social networking platforms, playing a pivotal role in member discussion and interaction. The creators of the Connect Platform understand the need for groups in a social networking setting, and have established a system of groups and group Discussions that keep Connect members in the loop on topics they and their peers are eager to know more about.
Joining Groups
Once logged in to the Connect Platform, a member can use the Groups directory to seek out groups in which they'd like to participate. Groups can be set to allow general admission to anyone who clicks the "Join This Group" button, set to allow only Association members to join the Group, or set to a moderated membership where a Group moderator approves or rejects members that click the "Join This Group" button.
A member is able to view their Groups through the intuitively titled "My Groups" section of the site. Any Groups they've joined will appear here, and clicking on a Group brings them to the overview page. Once there, the Group member can interact with other members, read various Group Discussions and blog entries, view Group events and links, and peruse uploaded Group resources.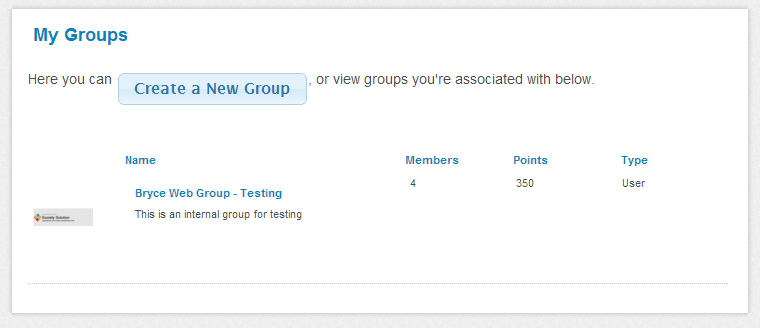 Discussions (a Listserve Replacement)
Social networking should facilitate interaction, and Connect was established with fostering connections in mind. The Connect platform can entirely fulfill Listserve requirements for an Association, making Connect a flexible and powerful Association tool. The Discussions capability of the Groups in Connect allows an organization to keep their members up-to-date through email updates on Discussion posts and replies.
A Group member can view entire Discussions on the Group overview page, post replies to existing Discussions, or post a new discussion on topics of interest. When a Group member replies to or posts a discussion, an email notification will be sent to Group members to show them the new content.
Discussions-and-Messaging.aspx">Learn more about Discussions at the Discussions and Messages documentation here!
Group Tabs
Discussion
Discussions can be joined in groups through the Discussions tab; replies can be exclusively done on the website, or can take place via the email interface shown above.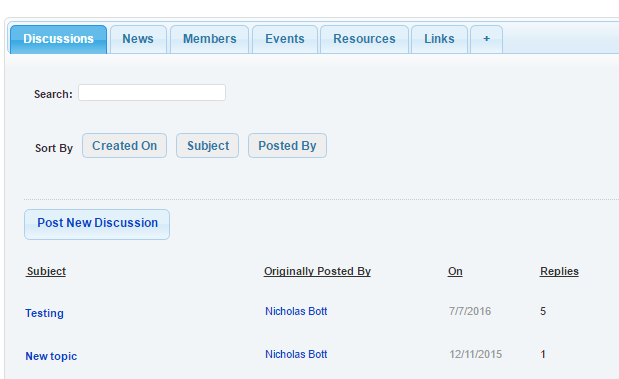 News/Blog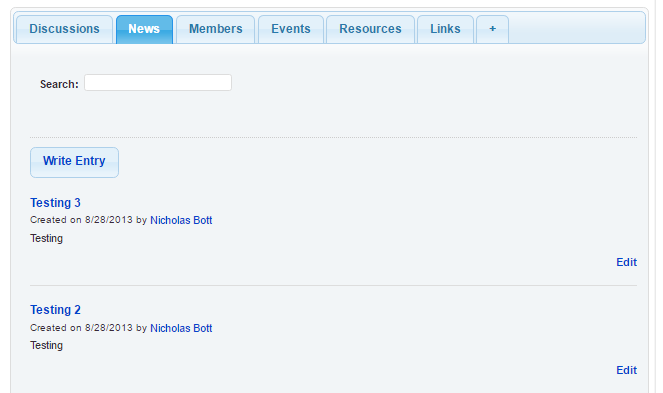 The News tab provides a place to put more in-depth content out to your group members. This content is more for information than discussion. Entries can have titles, dates, content, images and attachments, and the news tab can also be added to via an RSS feed. See the "Manage Group" section below on how to add a news feed.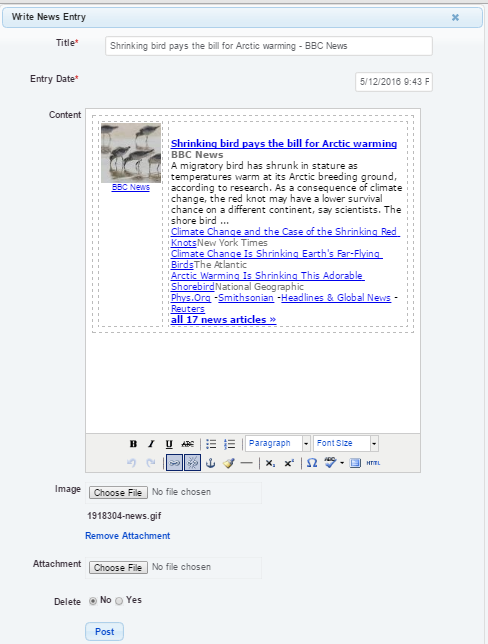 Members
Networking opportunities in groups are of course a key component of the Connect interface; being able to see the members of any group a user belongs to is a key networking opportunity for your members.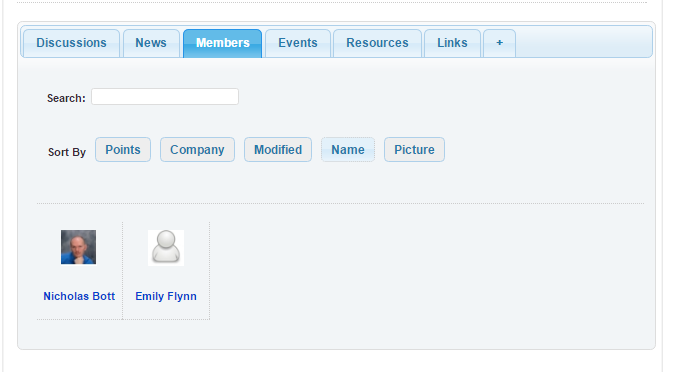 Events
Events can be added to a group, to engage your members fully and ensure they have the opportunity to schedule interactions. Events are automatically added to any group member's calendar.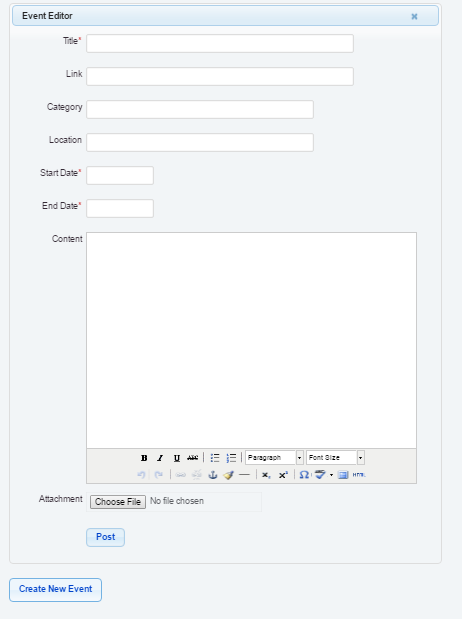 Resources
This tab allows you to upload files for your group members. This can be a handy way to provide agendas, forms, bylaws, example documents, etc.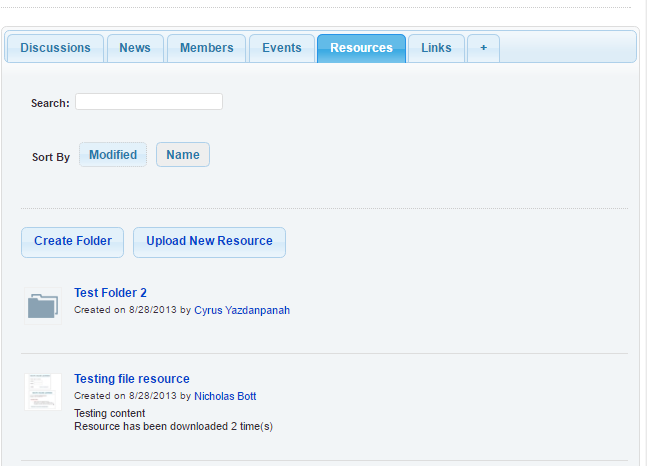 Links
Links are similar to resources, in that they provide quick content for group members to guide them to URLs that are deemed relevant and informative for the group members.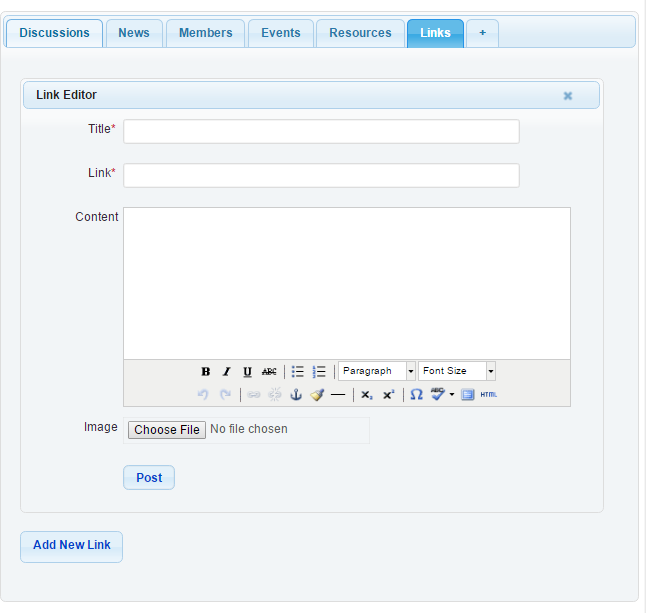 Custom Tab
A custom tab can be created by Administrators, and can include html to display just about any content your Association sees fit. This can be a great way to add videos, social networking feeds, custom content and items of interest for your members.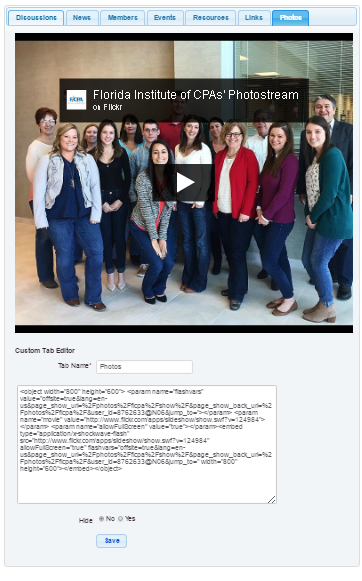 Manage Groups
Depending on your Connect installation settings, it may be the case that any member can create a group, or only Administrators can create a group. The creator of a group, as well as Administrators, can manage the group. Managing the group has several tools which are detailed below.
Profile
A group profile is the face of the group; it gives members information about the purpose, rules and goals of the group, and can provide contact information, group RSS feeds, social links, and set up contribution and data visibility rules for the group. This may be the most critical component of setting up a group, as it sets the tone for the group's activities from the start.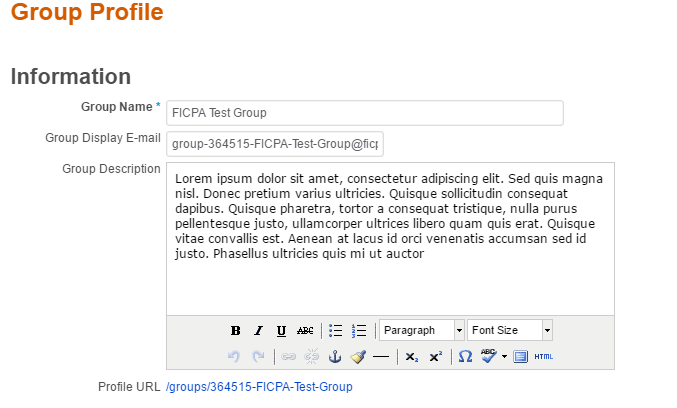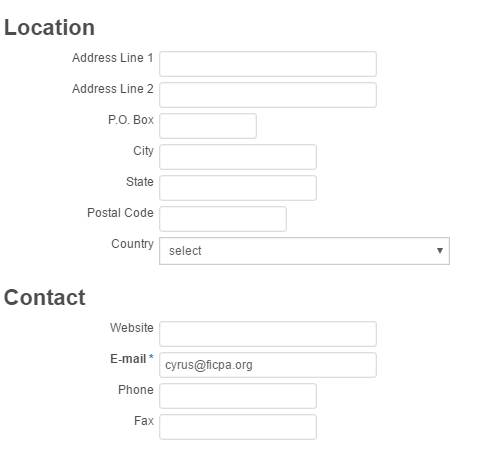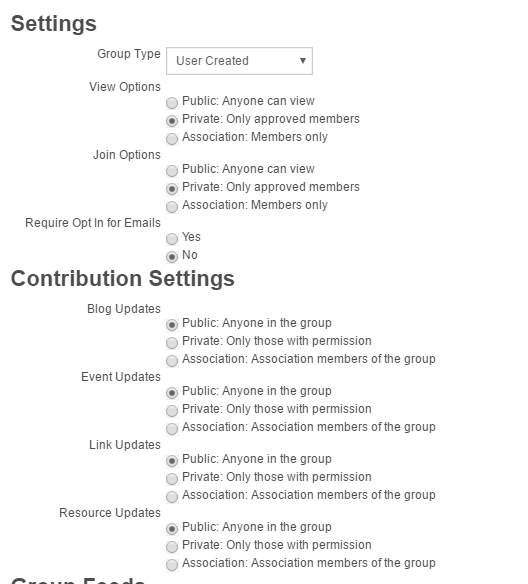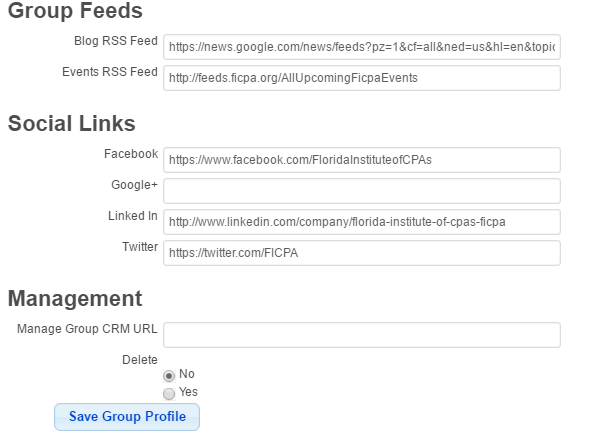 Roster
Managing your group roster is a great way to add interested members to the group, and remove problematic members should they arise.
When you manage your group's roster, you have the ability to change the member's permissions, increasing or decreasing their ability to contribute to the group blog, links, news, etc. You also have the ability to "thumbs down" the member, effectively removing them from the group.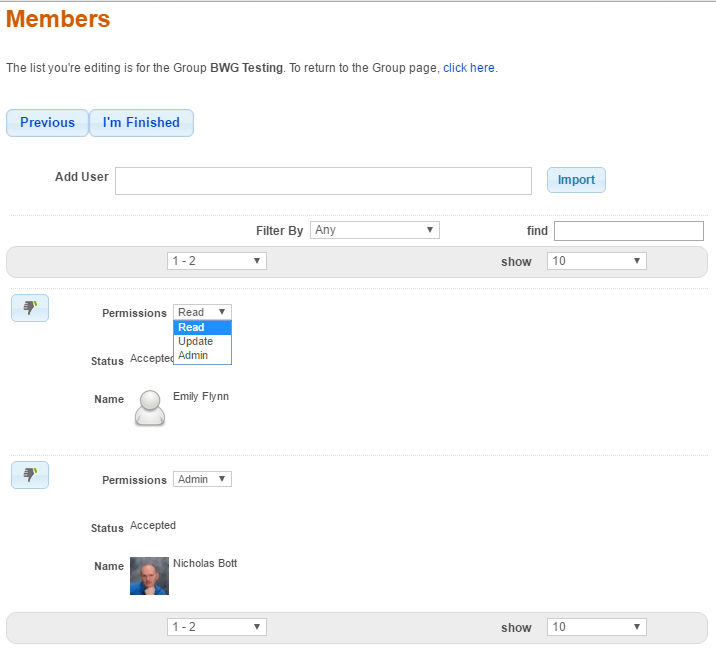 When adding members, an autofill capacity makes finding the right member to add much simpler.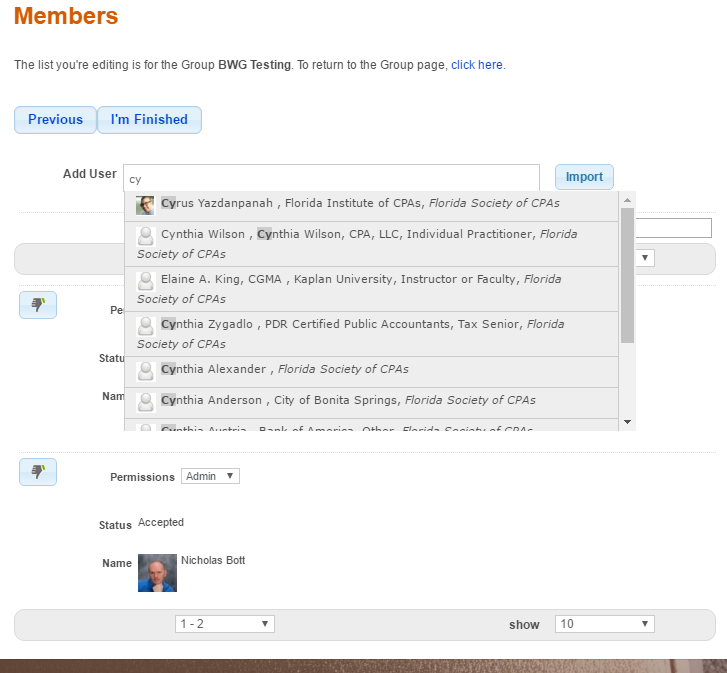 Blog
This tab can be renamed if desired during setup; a common name others have used is "News". The goal of this tab is to share information that includes more text than a discussion, and so managing blog entries can be critical if something is shared that is factually inaccurate, needs to be corrected, or needs to be removed outright.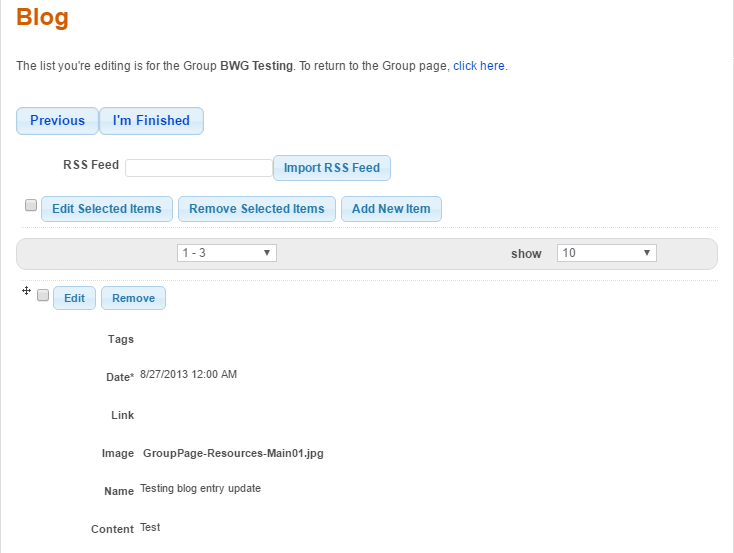 Events
Managing events is very similar to managing the blog; you can edit, remove or add events in this interface, allowing you to manage how your group represents itself by holding events.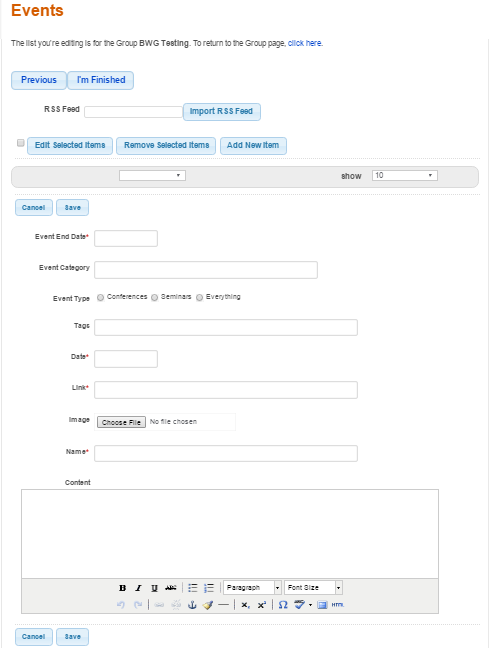 Documents
Managing uploaded documents can be a critical way to manage the message of the group, ensuring the safety, security and propriety of the downloadable resources available for your group members. Adding, editing or removing the documents can be done here, and the interface looks like the "add document" interface on the main group page, so you are able to change everything that could be added to the group.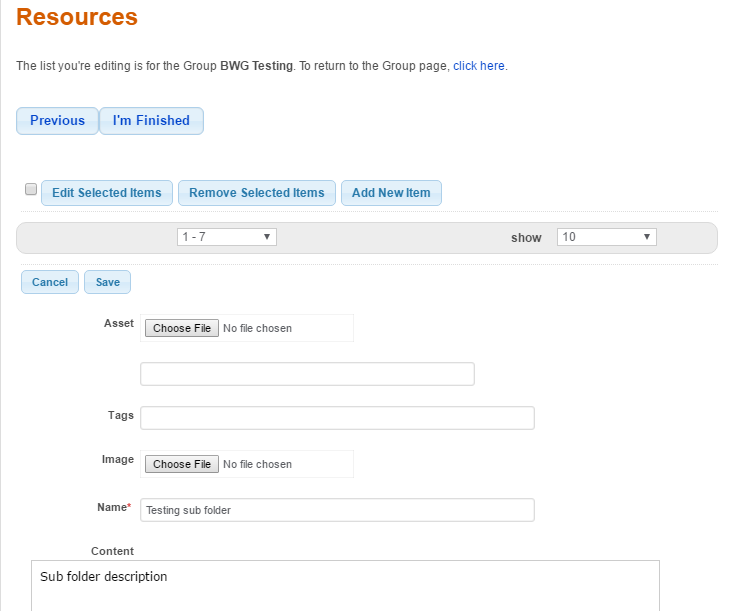 Links
Links, much like documents, may need to be managed to ensure security and propriety for your group. Links can be added, edited or removed at the Link Management interface.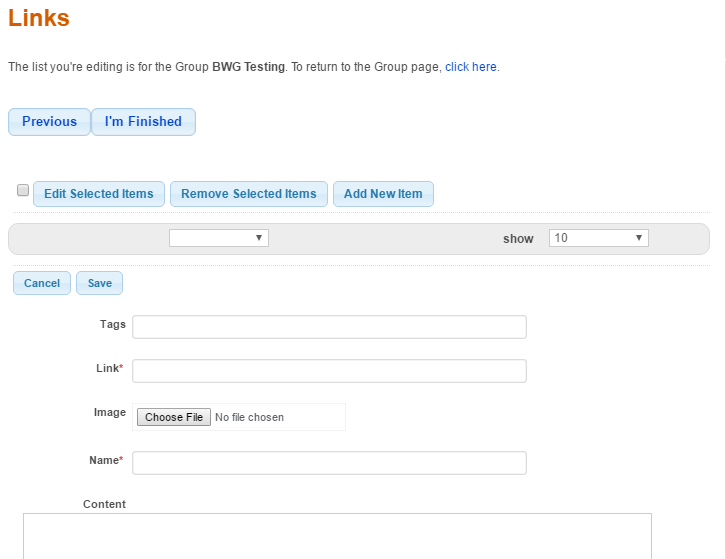 Import feeds
This brings you back to the group profile, where you can upload feeds for the group. This includes a feed that automatically pulls in blog or news posts for your group, or an event feed specifically for the group. This can be a great way to highlight content for your group without having to upload through the group interface every time; existing feeds can pull content into your group without having to generate it in two places every time you create a news post or event.