Getting Started
When a member first logs in to your social networking platform, they'll see a Dashboard, and a Recent Activity feed. Unless you establish a group that all members are automatically added to, their Recent Activity feed will be empty until they request to be added to a Group.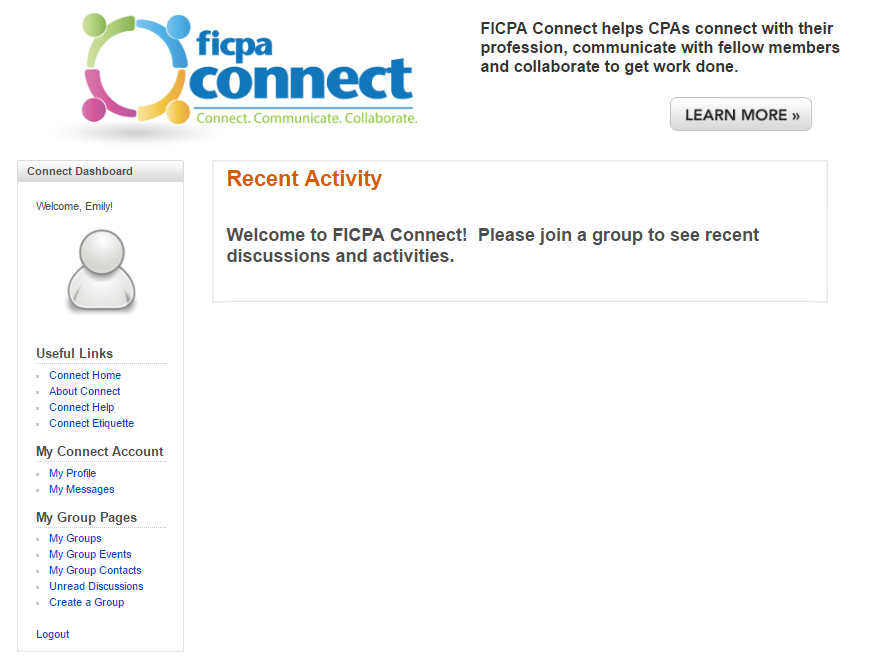 Dashboard

"My Profile"
A user's profile gives them control over their user image, and provides them with tabs to manage their blog entries, view Discussions they participate in, view their contacts they've established through Discussions and group participation, and finally to view the Groups to which they belong.
An additional component of the Connect platform is the participation gauge; users get points for different participation actions, and can reach different user levels through increased participation. This little reward can be a fun way to show users that their participation is valued.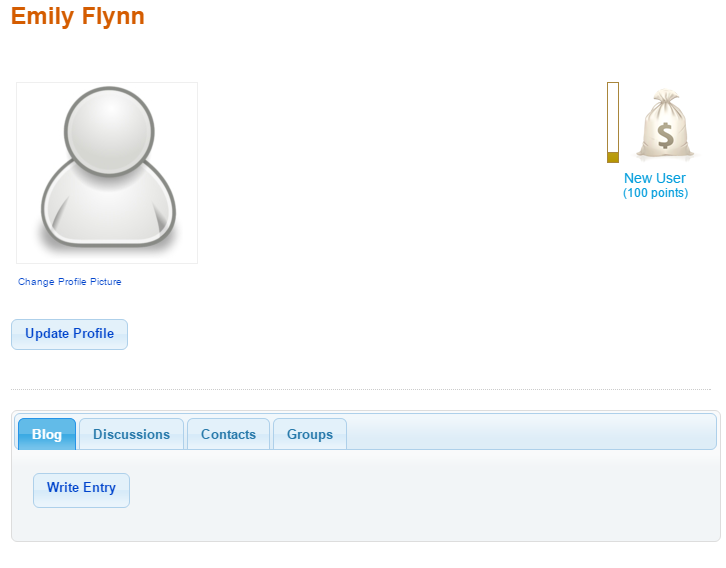 Blog
A user can generate blog content on their profile; this can be a handy way to share news, thoughts, or professional insights to help define their presence in Connect.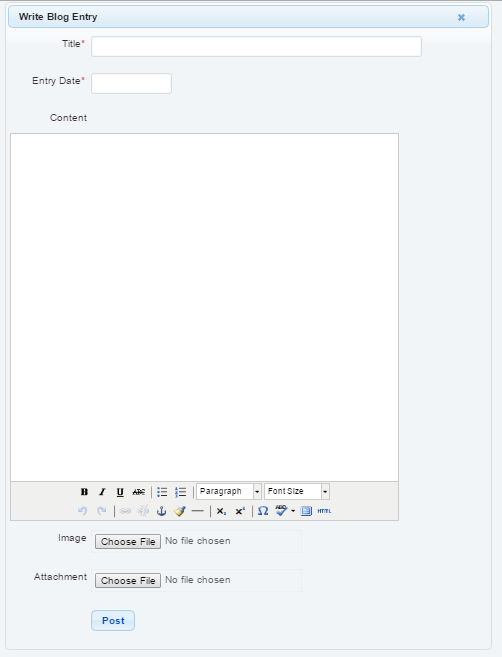 Discussions
Discussions-Listserve.aspx">Discussions are covered more extensively in the Groups and Discussions documentation. The Discussions tab gives a user a website-based location to review the Discussions they follow, letting them review the Discussions and reply on the website if desired.
Discussions%20tab.PNG" />
Contacts
Creating connections with contacts through group membership, Discussions, and messaging is a key component of any social network offering. Users can quickly find their contacts through the contacts tab; they aren't limited, however, to solely networking with their contacts. Through the "Find Members" link below their dashboard, as long as their account permissions allow it, they are able to search for any member of your Connect installation, giving them the flexibility to develop their network as they see fit, while keeping their existing contacts close at hand.
Groups
Groups are the backbone of the Connect platform; they house the online view of Discussions, and can help create professional connections for their members. When a user searches for Groups through their dashboard, they are brought to the group directory. This directory lists all Groups available for users to join.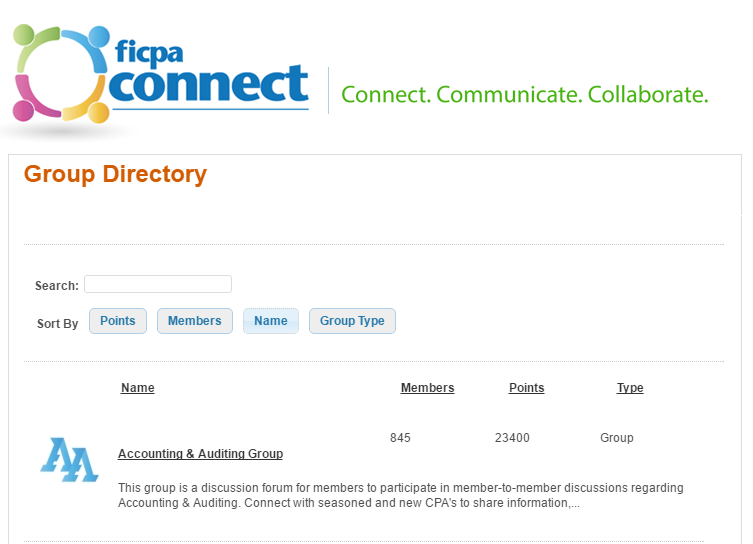 Groups are moderated in Connect, and so a new user has to request to be added to a group; this request is sent to the group moderator as a message, and the moderator can approve or deny the request. Once added to a group, a user can participate in group Discussions, add new Discussions, and have the events for that group added to their calendar.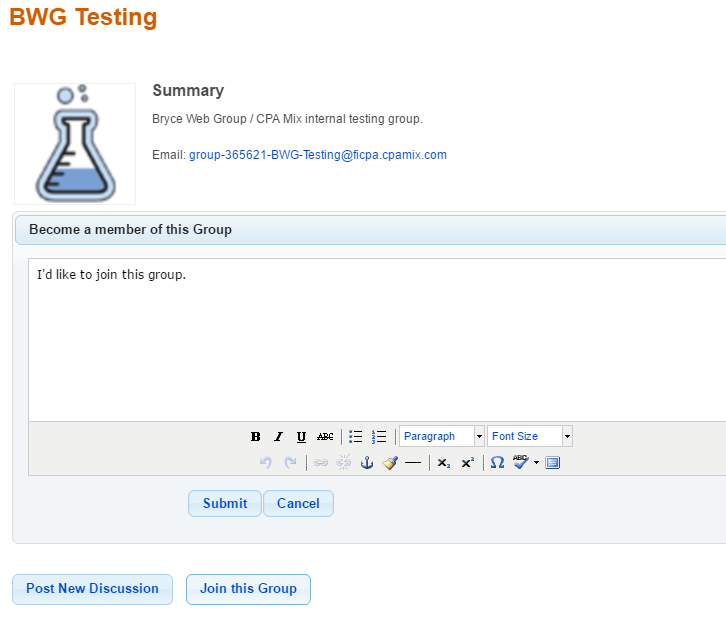 Discussions
Discussions-Listserve.aspx">Check out the Discussions and Messaging documentation here, to learn more!
Group Events and CPE
The
Connect Platform
event calendar is one of the simplest and most powerful tools created for extending an Association's influence in their members' social networking sphere.
CPE Events in Connect
The Event Calendar is set up to automatically pull your Association's CPE offerings into the Connect Platform, providing users with reminders of what CPE is available to them. When a user clicks on a CPE event in their calendar, a summary is shown below the calendar so the user can learn more about the event without being taken away from their event calendar.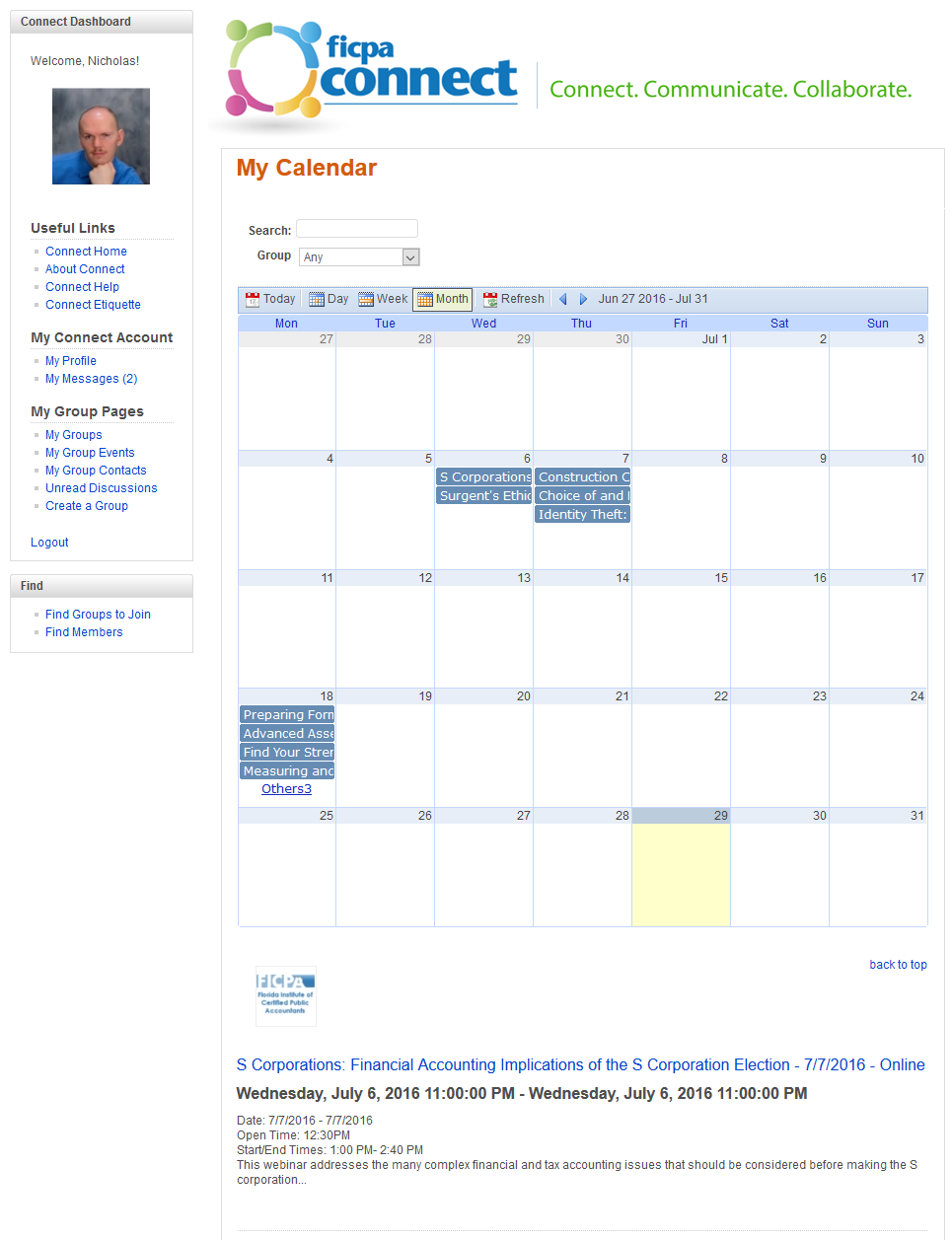 Group Generated Events
Groups are able to create their own events to engage your Association members, and these are automatically displayed in Group member Event Calendars.
Group events can be added in the Event tab of a particular group: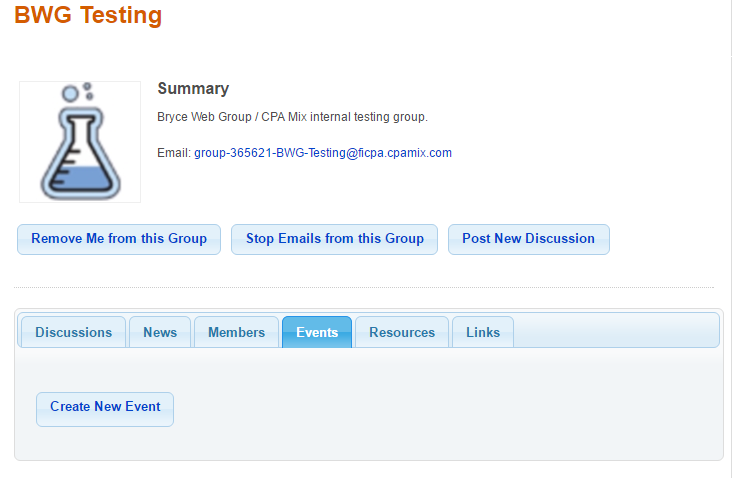 An event must have a title, start date, and end date. Otherwise, the world is your and your users' oyster. Linking to a pre-existing event page is possible, or an in-person event, as well as the option of creating an in-Connect event, perhaps a specific discussion at a specific time. Letting your users organize their own calendar and group activities is another value-added aspect of the Connect interface.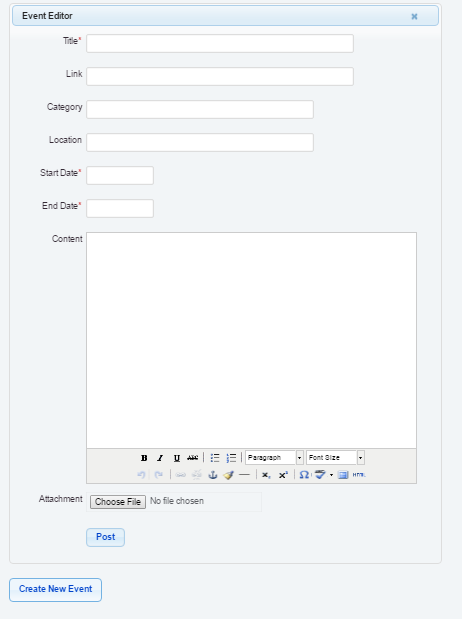 This event is automatically added to your users' calendar, as long as they are a member of the group that is hosting the event.
Messages
Messages are very similar to discussions, but take place outside of groups between two or more members. Messages can be a handy networking tool, a fun way to connect socially, and a way for members to discuss topics they still find engaging, when interest from the majority of the group has waned.
To prevent messages being sent to members with similar names that are not the intended messagee, an autosuggest pulls up member names so the messenger can select from a set list of actual members.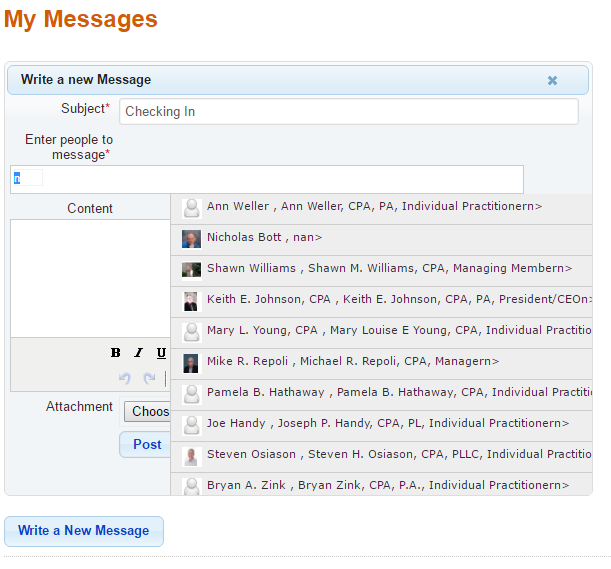 Messages show up both in the email of the members included by the original messenger, and in the "My Messages" portion of their dashboard.
In the email, identically to Discussions as mentioned above, a user can reply to the message either via email or the website, or choose to stop following the message thread.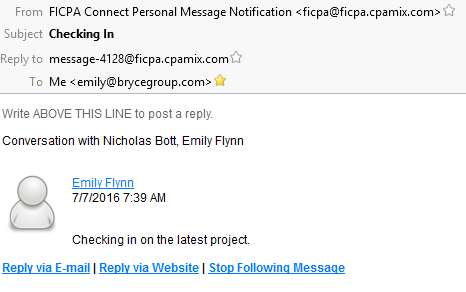 Administrator Messaging Privileges
When an Administrator types Broadcast: everyone into the "to" field, the message is addressed to your entire membership. This can be a handy way to provide updates to all members of your Connect installation.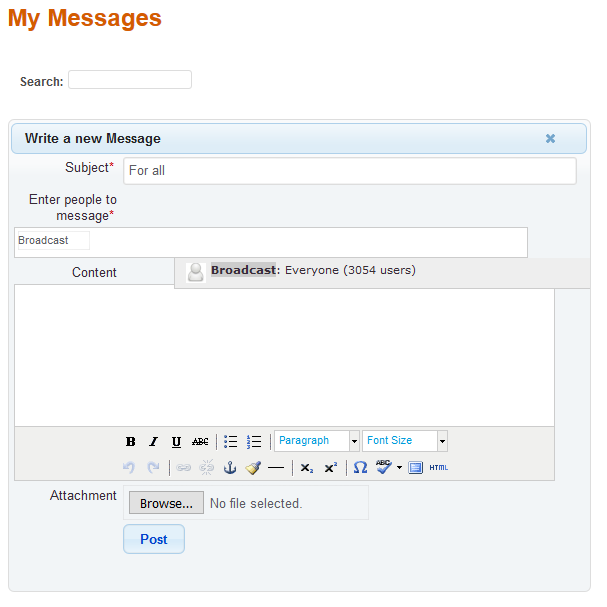 A Complete Homepage
After completing their profile and joining Groups, a user will log in and see their profile picture in their dashboard, and activity in their Recent Activity feed. They'll be able to participate in Discussions, add new Discussions, message contacts, and join more Groups if they so choose.